July 10, 2020
Dear Gospel Partners,
"He only is my rock and my salvation, my fortress; I shall not be shaken."  Psalm 62:6

We're not going to exaggerate...the last few months have not been easy. As I'm sure they haven't for you, at least for most of the people we know. We've struggled with frustrations, discontentment over what we've not had or been able to do, impatience, tiredness, cabin fever, and at times despair.
At church, we 've spent the last few Sundays looking at the Psalms. What an encouragement Psalm 62 is! No matter what happens in life, when plans get disrupted, when good health is compromised, we can keep trusting in God alone for our strength and stability. Please pray that we will be content in whatever happens over the coming months, knowing that our trust is in God alone.
Ministry trainees and administration staff 
Cornhill Training & Emmanuel Church
We finished our first year of training at Cornhill at the end of June, praise God. Looking back, it's amazing to see how much we have learned and how God has been working in our lives through the teaching. Please pray that God would continue to work in our lives and that we would have opportunities to faithfully teach the Bible to others. Although the school has ended, we will continue to study as we prepare for the coming year. Especially studying New Testament Greek, and an in-depth Bible study to be able to teach through the book of Romans.
 
At church we've continued to have opportunities to get involved in the live streams, leading Bible studies, youth groups, and helping with administration. Some staff members are leaving over the summer and two of the other trainees are heading home to Uganda and Kenya. We are keen to be able to help and serve where is needed. Please pray we would be willing to serve while still maintaining a good balance with family life.

We have recently had some good opportunities to talk about the gospel with our neighbors and a Turkish guy named OS he met last year. Just this week, OS opened up deeply about his faith, and the risk he is taking in putting his business and family in jeopardy for the sake of Christ. Please pray for good ongoing conversations with him and the opportunity to study the Bible more.
Ben and Eli
Family life
As we have been restricted in what we can do over the past month, it's given us more time to spend as a family. We've enjoyed going on family walks and playing games. Donald is teaching the boys how to do a Rubik's cube and play chess. Because of our studies and sharing responsibilities at church, we mostly tag teamed before lockdown. We would go weeks on end when we never left the house at the same time. We are thankful that lockdown has given us the opportunity for more quality time together.

A few weeks ago the opportunity arose for Ben to go back to nursery some afternoons a week. We took it up and he's been really excited to be back. He is incredibly active, often looking for something a little more extreme to do! (see the video) Elliot on the other hand is calmer…he can often be found doing a puzzle or reading a book. Saying that he's starting to try to keep up with his brother!

Please pray that God would continue to give us wisdom as we teach them what it means to follow Christ and we would be good examples of living it out.
Cielos Abiertos Church at the Vida base
Mexico
A few months ago the leader of a church Donald spent time training, approached us about using the English School facilities for their Sunday services. This past week lockdown lifted enough in Mexico to allow them to start meeting again, and they held their first service in the building.
The English School has just finished for the year but struggled to cover its expenses at the end of June due to Covid-19. In March, it went online and was able to retain a good number of students, but slowly the number has decreased. The school provides two gospel workers in San Luis with opportunities to share Christ, and also an income to support them. The proceeds also have been paying for two of the missionaries to get more biblical training.
 Please pray we will be able to take on more students in September.
Monse a lovely Mexican girl heads it. Before working with us she spent two years with Operation Mobilization (OM) in Spain and is currently is running the English school and serves as the Women's worker…especially in starting new Bible studies. She hopes to return to Spain in the next few years and sees this time as a great experience. She has run the school really well, adapting to the challenges of going online and working well within the team.
It's been encouraging to hear how God has been at work in Mexico over the past month. One of our co-workers has faithfully trained others to do Bible studies in various houses and this past weekend 

baptized

 three new believers.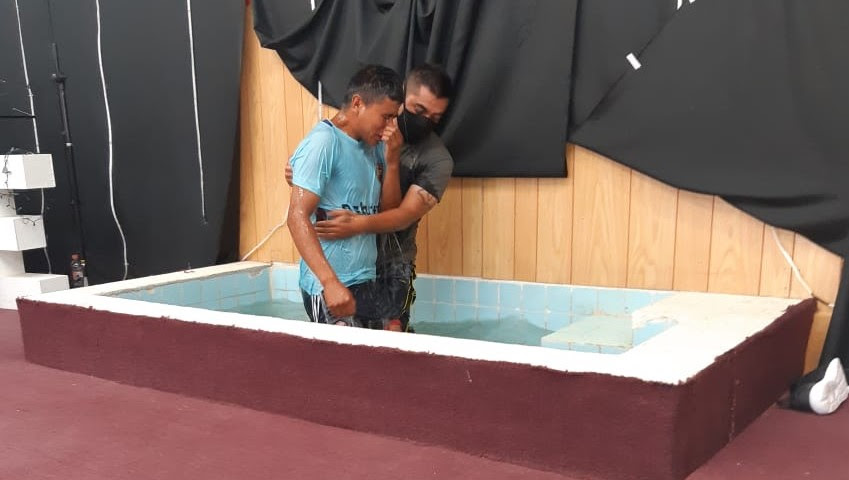 1 of  the 

3

 

baptized

 in June
We are thankful for your continued prayerful support, together, we praise God that even in our troublesome times, his word continues to spread, and people are coming under his wings for refuge and salvation.
Praises:
We thank God, through your partnership we have been able to finish our first year at the Cornhill Bible Training.
Please pray:
We continue to grow in godliness, and his character, as we share his word with others, and also live as an example to our children.
For our brothers and sisters in Mexico, who need our help during this time.
Serving Together,
Donald, Becky and the boys!
Ben's new Bike Trick